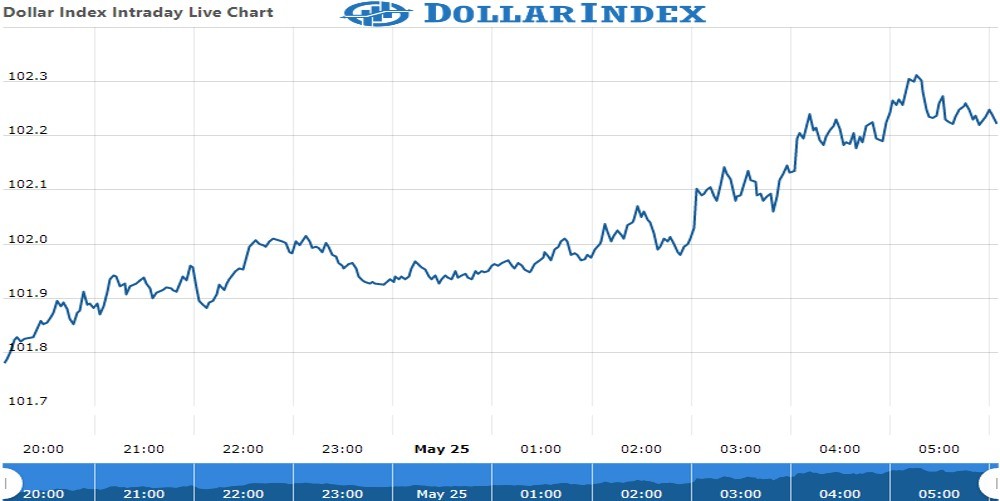 Dollar Index Update : 25 May 2022
The U.S.Dollar Index  is trading at 102.20 up with +0.33% percent or +0.37  point.The Dow Futures is trading at 31,916.1 with a loss of -0.04% percent or -12.5 point.The S&P 500 Futures is  trading at 3,943.60 up with +0.05% percent or +2.10 point.The Nasdaq Futures is trading at 11,788.1 up with +0.16% percent or +18.3 point.
TODAY'S FACTORS AND EVENTS
The Reserve Bank of New Zealand became the latest central bank to raise interest rates by half a point. While that move was expected, it also provided hawkish guidance on its policy path, noting a larger and earlier hike reduced the risk of inflation becoming persistent.
PREVIOUS DAY ACTIVITY
For the day the Dow is trading at 31,880.24 up with +1.98% percent or +618.34  point. The S&P 500 is trading at 3,973.75  up with 1.86% percent or +72.39 point. The Nasdaq Composite is trading at 11,535.27  with 1.59% percent or +180.66  point.
WORLD MARKETS
Other leading market index closes included the small-cap Russell 2000 Index closed a 1,764.83 with a loss of  -1.56% percent or  -27.94 point. the S&P 600 Small-Cap Index closed at 1,171.41 with a loss of -1.11% percent or -13.09  point. the S&P 400 Mid-Cap Index closed at 2,380.40 with a loss of –1.22% percent or −29.42 point. the S&P 100 Index closed at 1,782.92 with a loss of -0.97% percent or  −17.42  point.the Russell 3000 Index closed at 2,272.26  with a loss of –1.01% percent or −23.21  point. the Russell 1000 Index closed at 2,161.39 with a loss of –0.98% or −21.32 point.