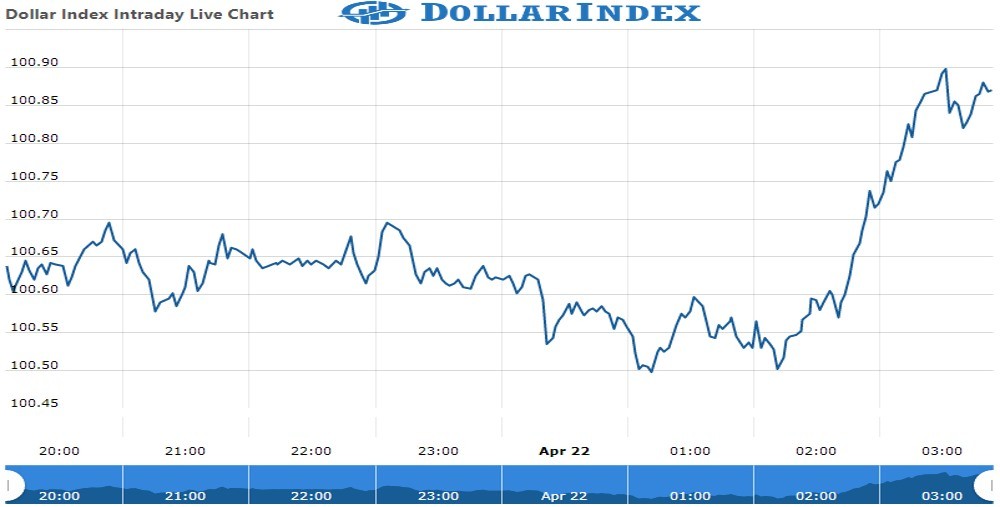 Dollar Index Update : 22 April 2022
The U.S.Dollar Index  is trading at 100.85 up with +0.27% percent or +0.27 point.The Dow Futures is trading at 34,728.60 with a loss of -0.18% percent or -64.20 point.The S&P 500 Futures is  trading at 4,386.40 with a loss of -0.17% percent or -7.30 point.The Nasdaq Futures is trading at 13,703.00 with -0.13% percent or -17.50 point.
TODAY'S FACTORS AND EVENTS
The dollar was headed for its seventh consecutive weekly gain on the yen on Friday and its best one-week rise on China's yuan in more than two years as higher U.S. yields hoist the greenback.
China is easing monetary policy and Japan is pinning its government bond yields near zero, while overnight Federal Reserve Chairman Jerome Powell said a 50 basis-point rate hike was on the table at the next meeting in two weeks.
PREVIOUS DAY ACTIVITY
For the day the Dow is trading at 34,792.76 with a loss of –1.05% percent or ?368.03 point. The S&P 500 is trading at 4,393.66 with a loss of –1.48% percent or –65.79 point. The Nasdaq Composite is trading at 13,174.65  with a loss of 2.07% percent or –278.41  point.
WORLD MARKETS
Other leading market index closes included the small-cap Russell 2000 Index closed a 1,991.46 up with -2.29% percent or  -46.72 point. the S&P 600 Small-Cap Index closed at 1,292.39 with a loss of -1.58% percent or −20.71  point. the S&P 400 Mid-Cap Index closed at 2,653.86 with a loss of -1.81% percent or −48.87  point. the S&P 100 Index closed at 1,998.81 with a loss of –1.38% percent or  −27.89 point.the Russell 3000 Index closed at 2,545.99  with a loss of -1.65% percent or −42.66  point. the Russell 1000 Index closed at 2,420.68 with a loss of -1.61% or −39.53 point.