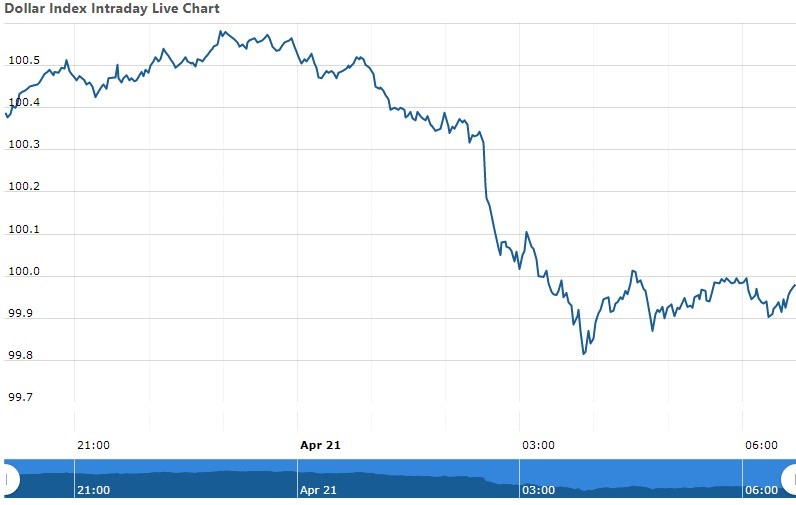 Dollar Index Update : 21 April 2022
The U.S.Dollar Index  is trading at 99.93 with a loss of -0.46% percent or -0.46 point.The Dow Futures is trading at 35,367.60 with +0.59% percent or +206.80 point.The S&P 500 Futures is  trading at 4,492.80 with +0.75% percent or +33.30 point.The Nasdaq Futures is trading at 14,149.40 with +1.08% percent or +150.90 point.
TODAY'S FACTORS AND EVENTS
The dollar edged up on Thursday supported by expectations for aggressive Federal Reserve monetary tightening, but was well off the previous day's peaks amid nervousness about what a gathering of finance ministers might say about its rapid appreciation.
PREVIOUS DAY ACTIVITY
For the day the Dow is trading at 34,411.69 with a loss of –0.11% percent or –39.54 point. The S&P 500 is trading at 4,391.69 with a loss of –0.020% percent or –0.90  point. The Nasdaq Composite is trading at 13,332.36 with a loss of –0.14% percent or –18.72 point.
WORLD MARKETS
Other leading market index closes included the small-cap Russell 2000 Index closed a 2,038.19 up with +0.37% percent or  +7.42 point. the S&P 600 Small-Cap Index closed at 1,313.10 up with 0.71% percent or +9.30  point. the S&P 400 Mid-Cap Index closed at 2,702.73 up with +0.76% percent or +20.28  point. the S&P 100 Index closed at 2,026.70 with a loss of –0.50% percent or  −10.19 point.the Russell 3000 Index closed at 2,588.65  with a loss of -0.090% percent or −2.34  point. the Russell 1000 Index closed at 2,460.21 with a loss of -0.12% or −2.94  point.