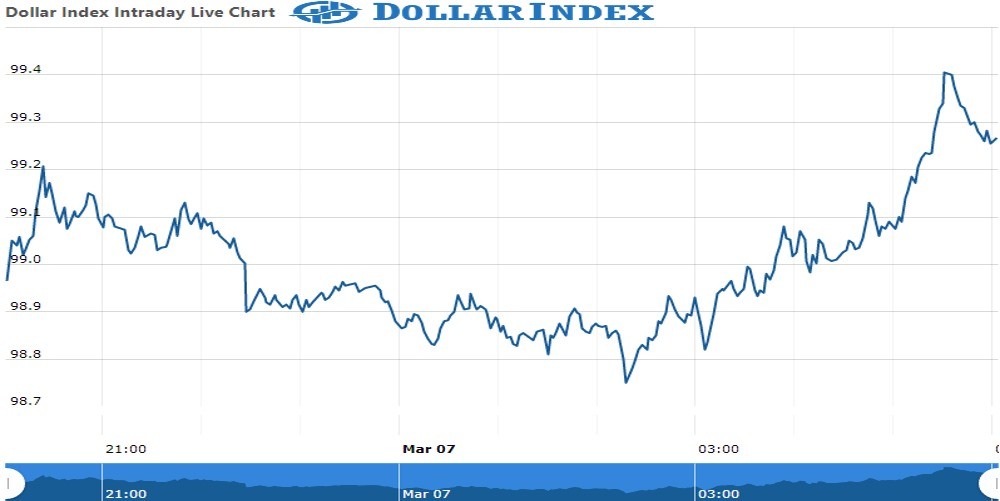 Dollar Index Update : 07 March 2022
The U.S.Dollar Index  is trading at 99.37 up with +0.73% percent or +0.72 point.The Dow Futures is trading at 33,093.80 with a loss of -1.55% percent or -521.00 point.The S&P 500 Futures is  trading at 4,259.60 with a loss of -1.60% percent or -69.30 point.The Nasdaq Futures is trading at 13,610.70 with a loss of -1.64% percent or -227.10 point.
TODAY'S FACTORS AND EVENTS
The euro tumbled to a fresh 22-month low on the dollar while commodity currencies were swept to multi-month peaks as war in Ukraine sent oil prices spiking and stoked fears of a stagflationary shock that could hammer Europe.
The euro fell as much as 1% to $1.0822 in Asia trade, its lowest since May 2020. It is down more than 4% since Russia began what it calls a "special military operation" in Ukraine and is not far from testing its 2020 trough of $1.0636.
PREVIOUS DAY ACTIVITY
For the day the Dow is trading at 33,614.80 with a loss of –0.53% percent or –179.86 point. The S&P 500 is trading at 4,328.87 with a loss of –0.79% percent or –34.62 point. The Nasdaq Composite is trading at 13,313.44 with a loss of 1.66% percent or –224.50  point.
WORLD MARKETS
Other leading market index closes included the small-cap Russell 2000 Index closed a 2,000.90 with  a loss of -1.55% percent or -31.51  point. the S&P 600 Small-Cap Index closed at 1,299.07 with  a loss of -1.36% percent or −17.91 point. the S&P 400 Mid-Cap Index closed at 2,615.47 with a loss of –1.58% percent or −41.97    point. the S&P 100 Index closed at 1,979.06 with a loss of –0.97% percent or  −19.32 point.the Russell 3000 Index closed at 2,516.07 with a loss of -0.98% percent or −24.93  point. the Russell 1000 Index closed at 2,389.68 with a loss of 0.94% or −22.78 point.