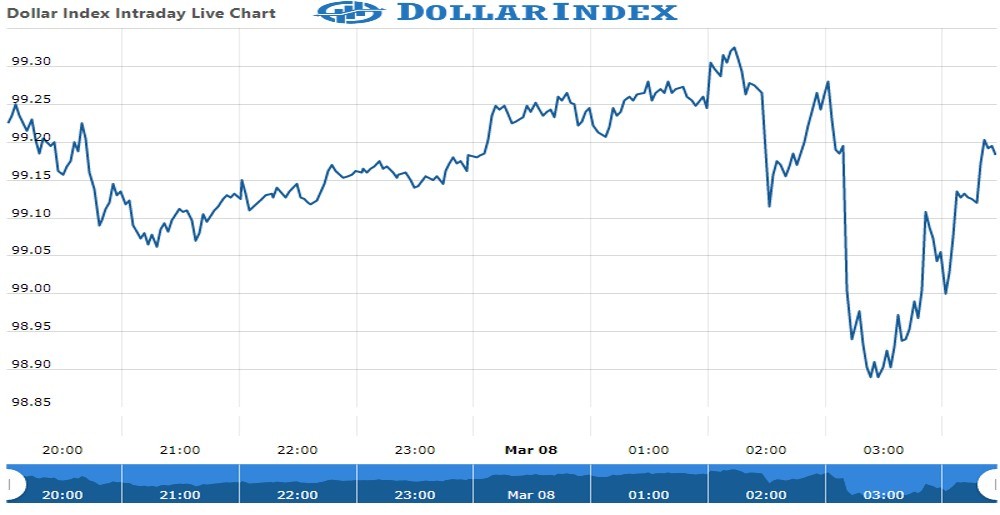 Dollar Index Update : 08 March 2022
The U.S.Dollar Index  is trading at 99.10 with a loss of -0.20% percent or -0.20 point.The Dow Futures is trading at 32,903.60 up with +0.26% percent or +86.20 point.The S&P 500 Futures is  trading at 4,219.70 up with +0.44% percent or +18.60 point.The Nasdaq Futures is trading at 13,372.20 up with +0.40% percent or +52.80 point.
TODAY'S FACTORS AND EVENTS
The U.S. dollar climbed on Monday as investors weighed the repercussions of a potential U.S. ban on Russian oil imports and gas.
The euro fell as much as 0.61% on the dollar and hit $1.086, while the U.S. dollar index hit a 22-month high and was last up 0.56% at 99.22.
PREVIOUS DAY ACTIVITY
For the day the Dow is trading at 33,614.80 with a loss of –0.53% percent or –179.86 point. The S&P 500 is trading at 4,328.87 with a loss of –0.79% percent or –34.62 point. The Nasdaq Composite is trading at 13,313.44 with a loss of 1.66% percent or –224.50  point.
WORLD MARKETS
Other leading market index closes included the small-cap Russell 2000 Index closed a 1,951.33 with  a loss of –2.48% percent or -49.57  point. the S&P 600 Small-Cap Index closed at 1,269.49 with  a loss of -2.28% percent or −−29.58  point. the S&P 400 Mid-Cap Index closed at 2,517.18 with a loss of –3.76% percent or −98.29  point. the S&P 100 Index closed at 1,921.92 with a loss of –2.89% percent or  −57.14 point.the Russell 3000 Index closed at 2,439.18 with a loss of -3.06% percent or −76.89  point. the Russell 1000 Index closed at 2,315.76 with a loss of -3.09% or −73.92 point.