US PRE MARKET
The US Dollar Index are trading at 96.14 for up with +0.11% percent or  +0.11 point . The cac 40 index are trading at 5,156.10 for up with   +0.22% percent or  +11.40 point . The DAX Index are trading at 12,436.83 for up with  +0.39% percent or +48.39 point. The EURO Stoxx 50 Index are trading at 3,474.95 for up with  +0.31% percent or +10.89 point.
TODAY'S FACTORS AND EVENTS
The dollar climbed to a two-month high against the Japanese yen on Monday as robust jobs data propped up U.S. Treasury yields, although investors were wary of adding big positions before Federal Reserve chief Janet Yellen's testimony this week.
The yen came within touching distance of a four-month low against the dollar in early London trade, with investors adding to bets that play on the divergence between rising Western government bond yields and low Japanese equivalents.
"Dovish expectations regarding the BoJ's policy, combined with the U.S. yields are supportive of a further yen depreciation against the U.S. dollar," said Ipek Ozkardeskaya, a senior market analyst at London Capital Group who expects dollar bulls to target 115 yen in the weeks to come.
PREVIOUS DAY ACTIVITY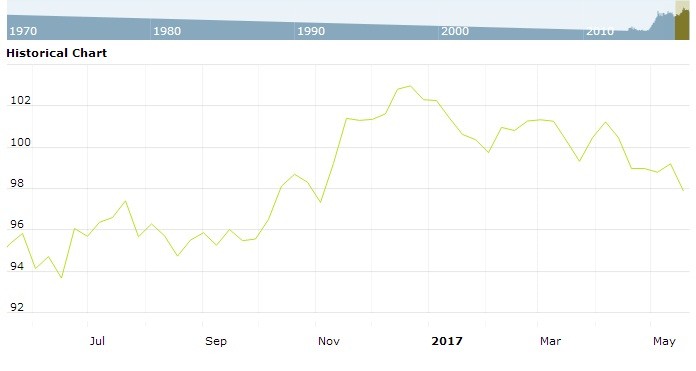 U.S. market indexes were mixed on Friday. For the day the Dow Jones Industrial Average closed at 21,414.34 for up with +0.44% percent or  +94.30 point. The S&P 500 closed at 2,425.18 for up with +0.64% percent or 15.43 point. The Nasdaq Composite closed at 6,153.08 for up with +1.04% percent or +63.61 point.
Other leading market index closes included the small-cap Russell 2000 Index closed at 1,415.84 for up with +1.07% percent or +15.02 point; the S&P 600 Small-Cap Index closed at 854.73 for up with + 1.14% percent or +9.66 point; the S&P 400 Mid-Cap Index closed at 1,747.36 for up with +0.96% percent or +16.61point; the S&P 100 Index closed at 1,068.65 for up with +0.56% percent or +5.90 point; the Russell 3000 Index closed at 1,437.11 for up with of +0.70% percent or +9.95 point; the Russell 1000 Index closed at 1,343.78 for up with +0.67% percent or +8.90 point; and the Dow Jones U.S. Select Dividend Index closed at 21,414.34 for up with  +0.44%  percent or +94.30 point.