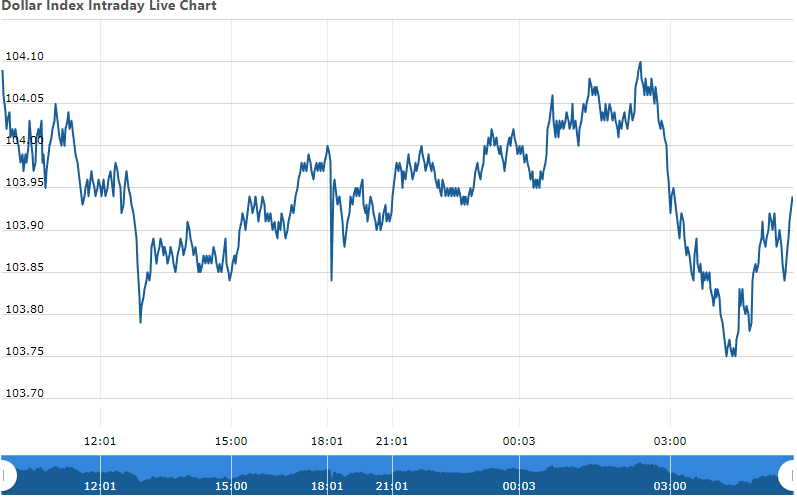 The U.S.Dollar Index  is trading at 103.90 up with +0.07% percent or +0.08 point.The Dow Futures is trading at 33,087.1 with a loss of -0.40% percent or -133.7 point.The S&P 500 Futures is  trading at 3,829.80 with  a loss of-0.51% percent or -19.50 point.The Nasdaq Futures is trading at 10,887.8 with a loss of -0.58% percent or -63.2 point
TODAY'S FACTORS AND EVENTS
The dollar slipped on Thursday with investors on edge at the end of the year as initial optimism over China's reopening fizzled out and as markets processed a readout of U.S. jobless claims.
PREVIOUS DAY ACTIVITY
For the day the Dow is trading at 33,220.80 up with +1.05% percent or +345.09 point. The S&P 500 is trading at 3,849.28 up with 1.75% percent or +66.06  point. The Nasdaq Composite is trading at 10,478.09 up with 2.59% percent or +264.80 point.
WORLD MARKETS
Other leading market index closes included the small-cap Russell 2000 Index closed a 1,766.25 up with 2.57% percent or  44.23 point. the S&P 600 Small-Cap Index closed at 1,162.74 up with 2.20% percent or +25.03point. the S&P 400 Mid-Cap Index closed at 2,441.17 up with +1.94% percent or +46.46 point. the S&P 100 Index closed at 1,711.28 up with 1.83% percent or  +30.74 point.the Russell 3000 Index closed at 2,222.72 with +1.85% percent or +40.33 point. the Russell 1000 Index closed at 2,111.16 with 1.80% or +37.37 point.