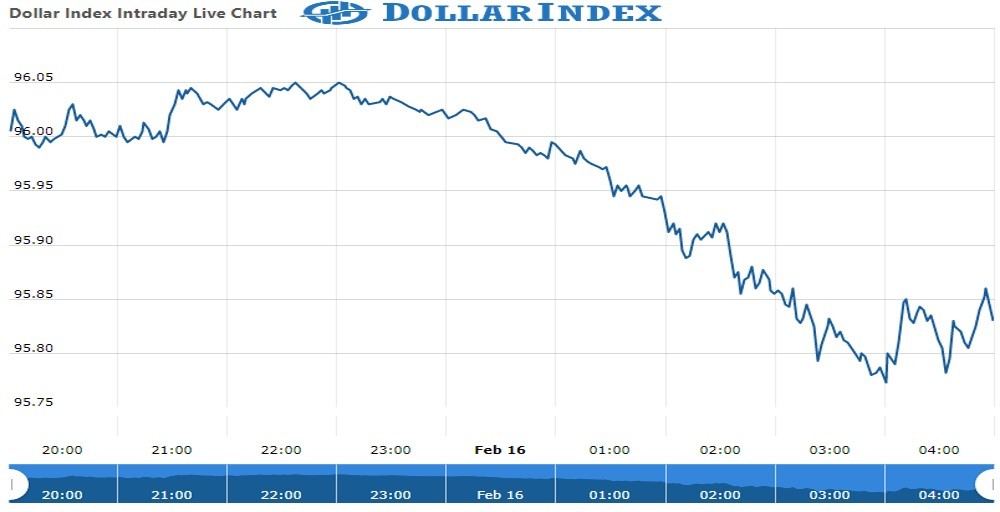 Dollar Index Update : 16 Feb 2022
The U.S.Dollar Index  is trading at 95.82 with a loss of  -0.90% percent or -0.20 point.The Dow Futures is trading at 35,021.70 with +0.09% percent or +32.90 point.The S&P 500 Futures is  trading at 4,471.70 with +0.01% percent or +0.60 point.The Nasdaq Futures is trading at 14,615.70 with a loss of -1.17% percent or -5.10 point.
TODAY'S FACTORS AND EVENTS
The euro held on to overnight gains in early Asian trade on Wednesday having jumped on reports that some Russian forces had moved away from the Ukraine border, though, with tensions still elevated, the common currency failed to make further progress.
PREVIOUS DAY ACTIVITY
For the day the Dow is trading at 34,738.06 with a loss of –1.43% percent or ?503.53 point. The S&P 500 is trading at 4,418.64 with a loss of –1.90% percent or –85.44 point. The Nasdaq Composite is trading at 13,791.15 with a loss of –2.78% percent or –394.49  point.
WORLD MARKETS
Other leading market index closes included the small-cap Russell 2000 Index closed at 2,076.46 up with +2.76% percent or +55.67  point. the S&P 600 Small-Cap Index closed at 1,326.27 with 2.29% percent or +29.68  point. the S&P 400 Mid-Cap Index closed at 2,695.08  up with +2.22% percent or +58.59  point. the S&P 100 Index closed at 2,060.61 with 1.58% percent or  +32.06  point.the Russell 3000 Index closed at 2,608.32 with +1.75% percent or +44.94  point. the Russell 1000 Index closed at 2,477.12 up with +1.69% or +41.14 point.