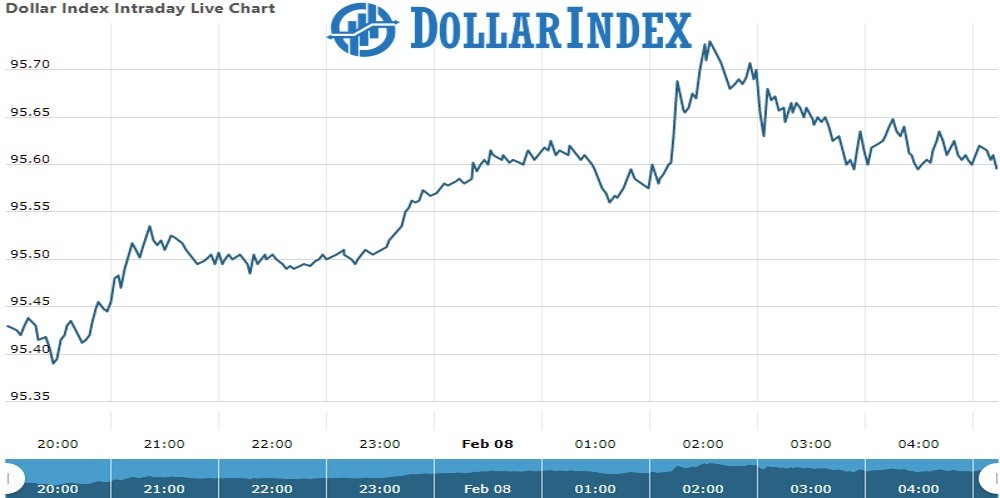 Dollar Index Update : 08 Feb 2022
The U.S.Dollar Index  is trading at 95.62 up with +0.24% percent or +0.23 point.The Dow Futures is trading at 35,173.70 up with +0.24% percent or +82.60 point.The S&P 500 Futures is  trading at 4,490.90 with +0.16% percent or +7.00 point.The Nasdaq Futures is trading at 14,578.10 up with +0.05% percent or +6.90 point.
TODAY'S FACTORS AND EVENTS
The dollar edged higher and the euro eased on Monday after European Central Bank President Christine Lagarde calmed market expectations of a quick hike in interest rates that bumped regional bond yields in Europe to multi-year highs.
There is no need for big monetary policy tightening in the euro zone as inflation is set to decline and could stabilize around the ECB's target of 2%, Lagarde told a European Parliament hearing.
PREVIOUS DAY ACTIVITY
For the day the Dow is trading at 35,089.74  with a loss of –0.061% percent or –21.42 point. The S&P 500 is trading at 4,500.53 up with +0.52% percent or +23.09 point. The Nasdaq Composite is trading at 14,098.01 up with +1.58% percent or +219.19   point.
WORLD MARKETS
Other leading market index closes included the small-cap Russell 2000 Index closed at 2,012.60 up with +0.51% percent or +10.24 point. the S&P 600 Small-Cap Index closed at 1,284.82 up with +0.093% percent or +1.20  point. the S&P 400 Mid-Cap Index closed at 2,622.81 with a loss of –0.014% percent or −0.37point. the S&P 100 Index closed at 2,070.55 with a loss of –0.54% percent or  −11.32  point.the Russell 3000 Index closed at 2,603.57 with a loss of -0.27% percent or −7.09 point. the Russell 1000 Index closed at 2,477.26 with a loss of –0.32% or −7.96 point.