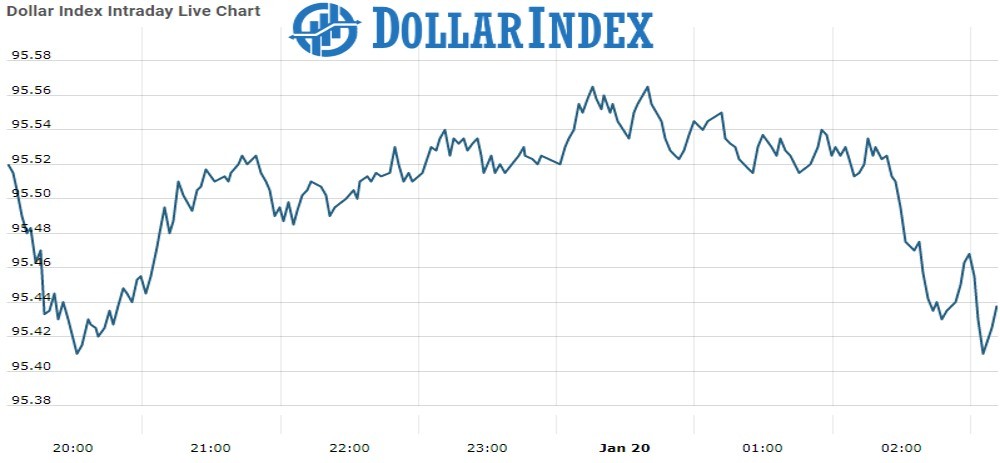 Dollar Index Update : 18 Jan 2022
The U.S.Dollar Index  is trading at 95.48  with a loss of  -0.03% percent or -0.03   point.The Dow Futures is trading at 35,167.30 with  +0.40% percent or +138.70 point.The S&P 500 Futures is  trading at 4,554.20 up with +0.47% percent or +21.40 point.The Nasdaq Futures is trading at 15,146.00 with +0.65% percent or +98.20 point.
TODAY'S FACTORS AND EVENTS
The dollar held near a weekly high on Wednesday after a surge in U.S. yields resulted in sharp gains this week against the euro amid growing bets that the Federal Reserve will raise interest rates.
Sterling edged higher after data showed British inflation rose 5.4% in December, to its highest level in 30 years, raising rate hike expectations. Talks of a leadership challenge to Prime Minister Boris Johnson kept the pound in check.
PREVIOUS DAY ACTIVITY
For the day the Dow is trading at 35,911.81  with a loss of –0.56% percent or ?201.81  point. The S&P 500 is trading at 4,662.85 up with +0.082% percent or +3.82   point. The Nasdaq Composite is trading at 14,893.75 up with +0.59% percent or +86.94   point.
WORLD MARKETS
Other leading market index closes included the small-cap Russell 2000 Index closed at 2,062.78 with  a loss of –1.60% percent or -33.44 point. the S&P 600 Small-Cap Index closed at 1,328.24 with a loss of -1.74% percent or -23.50 point. the S&P 400 Mid-Cap Index closed at 2,687.06 with a loss of –1.36% percent or −37.01  point. the S&P 100 Index closed at 2,090.13 with a loss of -0.95% percent or  −20.00  point.the Russell 3000 Index closed at 2,633.86 with a loss of –1.01% percent or −26.95 point. the Russell 1000 Index closed at 2,504.01 with a loss of 0.98% or −24.67  point.