The U.S. Dollar Index is trading at 96.73  up with +0.23% percent or +0.22  point.The Dow Futures is trading at 22,369.00  with a loss of -5.12% percent or -1,206.00 point. The S&P 500 Futures is trading at 2,606.75 with a loss of -4.87% percent or –133.50 point.The Nasdaq Futures is trading at 7,612.50 with a loss of -4.89% percent or –391.00 point.
TODAY'S FACTORS AND EVENTS
The dollar slid in another seismic shift to price in more U.S. interest rate cuts on Thursday, as President Donald Trump sapped market confidence with a coronavirus plan light on details.
The greenback dropped as far as 1% to 103.32 yen, fell as much as 0.6% to $1.1333 against the euro and lost 0.6% to the safe-haven Swiss franc.
Riskier currencies were punished as the fearful mood sent the Australian dollar down 0.6% and the South Korean won skidding 1%, and losing even more ground to the rising yen.
PREVIOUS DAY ACTIVITY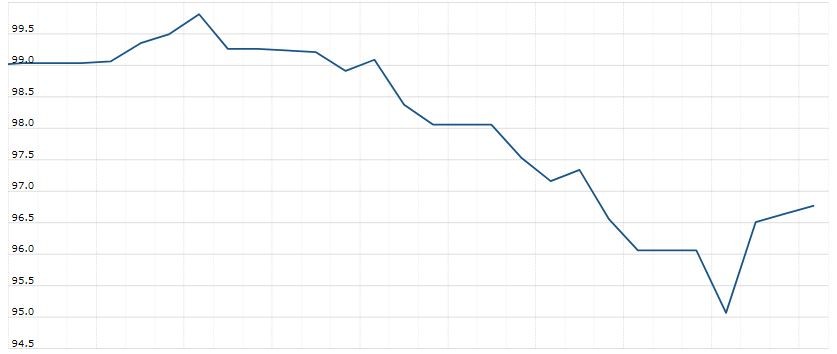 For the day the FTSE 100 closed at 5,876.52 with a loss of –1.40% percent or –83.71 point. France's CAC  40 closed at 4,610.25 with a loss of –0.57% percent or –26.36 point.Germany's DAX closed at 10,438.68 with a loss of –0.35% percent or –36.81  point.
WORLD MARKETS
Other leading market index closes included the small-cap Russell 2000 Index closed at 1,264.30  with a loss of -6.41% percent or –86.60 point; the S&P 600 Small-Cap Index closed at 757.53  with a loss of -6.02% percent or -48.50 point; the S&P 400 Mid-Cap Index closed at 1,584.67  with a loss of –6.60% percent or -112.00 point; the S&P 100 Index closed at 1,238.84  with a loss of –4.74% percent or -61.65 point; the Russell 3000 Index closed at 1,589.49 with a loss of –5.08% percent or –85.08  point; the Russell 1000 Index closed at 1,509.00  with a loss of –5.00% or -79.36 point.