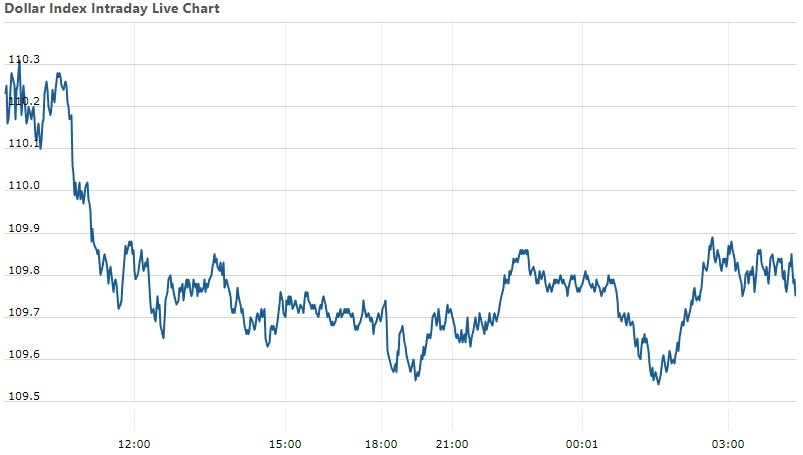 The U.S.Dollar Index  is trading at 109.84 up with +0.13% percent or +0.14 point.The Dow Futures is trading at 31,970.1 up with +0.41% percent or +131.0 point.The S&P 500 Futures is  trading at 3,839.70 up with +0.24% percent or +9.10 point.The Nasdaq Futures is trading at 11,389.0 up with -0.15% percent or -16.9 point.
TODAY'S FACTORS AND EVENTS
The dollar retreated on Thursday as market expectations mounted that the Federal Reserve will tone down its aggressive stance on interest rate hikes, pushing the euro further above parity and lifting its other major peers to multi-week highs.
PREVIOUS DAY ACTIVITY
For the day the Dow is trading at 31,839.11 with 0.0074% percent or +2.37 point. The S&P 500 is trading at 3,830.60 with a loss of –0.74% percent or ?28.51 point. The Nasdaq Composite is trading at 10,970.99 with a loss of –2.04% percent or -228.12 point.
WORLD MARKETS
Other leading market index closes included the small-cap Russell 2000 Index closed a 1,804.33 up with +0.46% percent or  +8.18 point. the S&P 600 Small-Cap Index closed at 1,167.50 up with +0.35% percent or +4.07  point. the S&P 400 Mid-Cap Index closed at 2,390.57 up with +0.20% percent or +4.86 point. the S&P 100 Index closed at 1,728.32 with a loss of –1.28% percent or  −22.49 point.the Russell 3000 Index closed at 2,220.06 with a loss of –0.64% percent or −14.29 point. the Russell 1000 Index closed at 2,105.58 with a loss of –0.71% or −15.06  point.