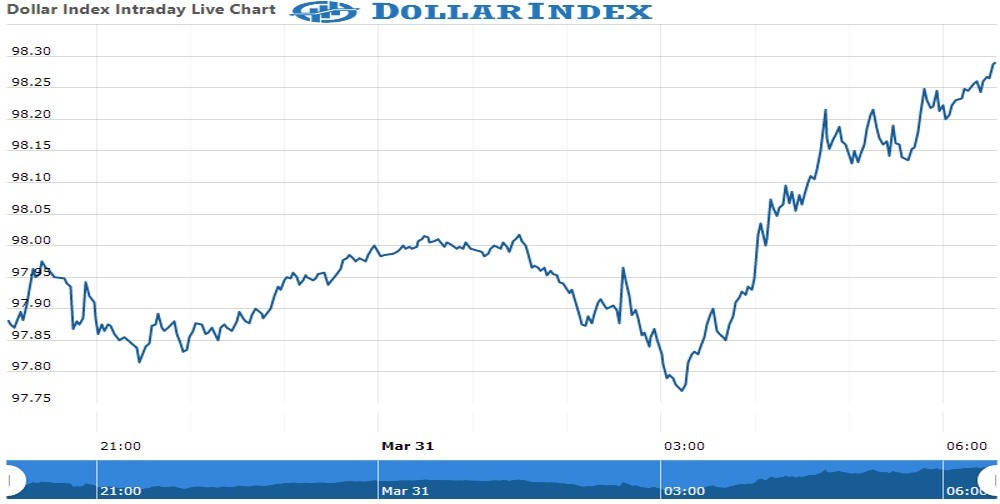 Dollar Index Update : 31 March 2022
The U.S.Dollar Index  is trading at 98.16 up with +0.38% percent or 0.37 point.The Dow Futures is trading at 35,211.10 with a loss of –0.05% percent or –17.70 point.The S&P 500 Futures is  trading at 4,605.20 up with +0.06% percent or +2.70 point.The Nasdaq Futures is trading at 15,117.90 up with +0.31% percent or +46.40 point.
TODAY'S FACTORS AND EVENTS
The euro held at a one-month high against the dollar on Thursday, having rallied on hopes the war in Ukraine might be entering a new de-escalating phase, while the yen was set for its worst month since November 2016.
The European single currency was at $1.1175 holding its highest in a month, having gained 1.7% so far this week.
PREVIOUS DAY ACTIVITY
For the day the Dow is trading at 35,228.81 with a loss of –0.19% percent or –65.38 point. The S&P 500 is trading at 4,602.45 with a loss of –0.63% percent or ?29.15  point. The Nasdaq Composite is trading at 14,442.27 with a loss of –1.21% percent or –177.36   point.
WORLD MARKETS
Other leading market index closes included the small-cap Russell 2000 Index closed a 2,091.07 up with -1.97% percent or  -42.03 point. the S&P 600 Small-Cap Index closed at 1,332.35 with a loss of –1.84% percent or −24.98  point. the S&P 400 Mid-Cap Index closed at 2,732.60 with a loss of –1.48% percent or −41.12 point. the S&P 100 Index closed at 2,120.72 with a loss of –0.59% percent or  −12.50 point.the Russell 3000 Index closed at 2,672.44 with a loss of –0.80% percent or −21.60  point. the Russell 1000 Index closed at 2,540.85 with a loss of –0.73% or −18.59 point.