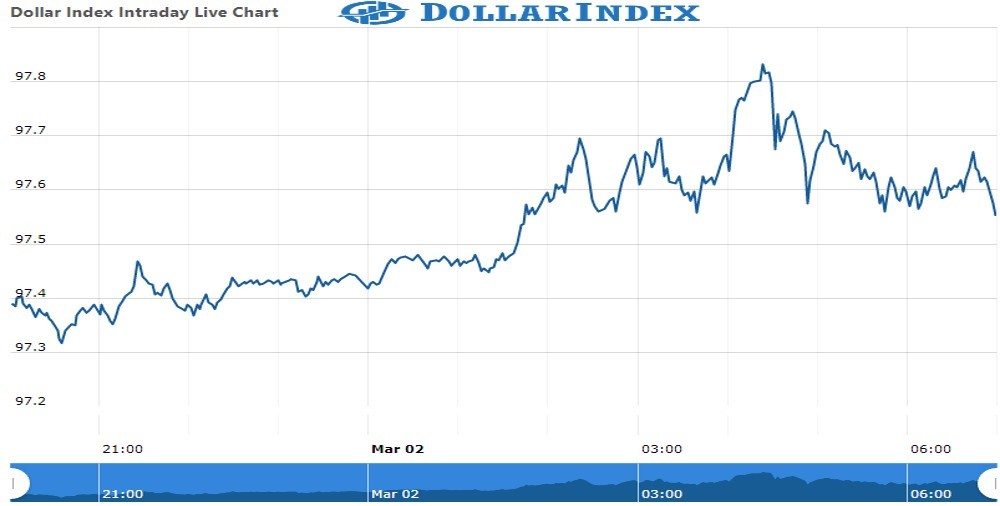 Dollar Index Update : 02 March 2022
The U.S.Dollar Index  is trading at 97.6 with  +0.19% percent or +0.19 point.The Dow Futures is trading at 33,535.50 up with +0.72% percent or +240.60 point.The S&P 500 Futures is  trading at +240.60 with +0.75% percent or -29.60 point.The Nasdaq Futures is trading at 14,121.90 with +0.83% percent or +115.90 point.
TODAY'S FACTORS AND EVENTS
The euro was under pressure on Wednesday as intensifying Russian bombardment of Ukraine's cities and surging oil prices raised investors' concerns about a hit to Europe's economy and growth.
PREVIOUS DAY ACTIVITY
For the day the Dow is trading at 33,294.95 with a loss of –1.76% percent or –597.65 point. The S&P 500 is trading at 4,306.26 with a loss of  –1.55% percent or –67.68 point. The Nasdaq Composite is trading at 13,532.46 with a loss of –1.59% percent or –218.94   point.
WORLD MARKETS
Other leading market index closes included the small-cap Russell 2000 Index closed a 2,008.51 with a loss of -1.93% percent or -39.58  point. the S&P 600 Small-Cap Index closed at 1,291.11 with a loss of –1.90% percent or −25.00 point. the S&P 400 Mid-Cap Index closed at 2,609.31  with a loss of –1.96% percent or −52.17   point. the S&P 100 Index closed at 1,979.09 with a loss of -1.45% percent or  −29.07point.the Russell 3000 Index closed at 2,512.32 with a loss of –1.57% percent or −40.10  point. the Russell 1000 Index closed at 2,385.30 with a loss of 1.55% or −37.49 point.