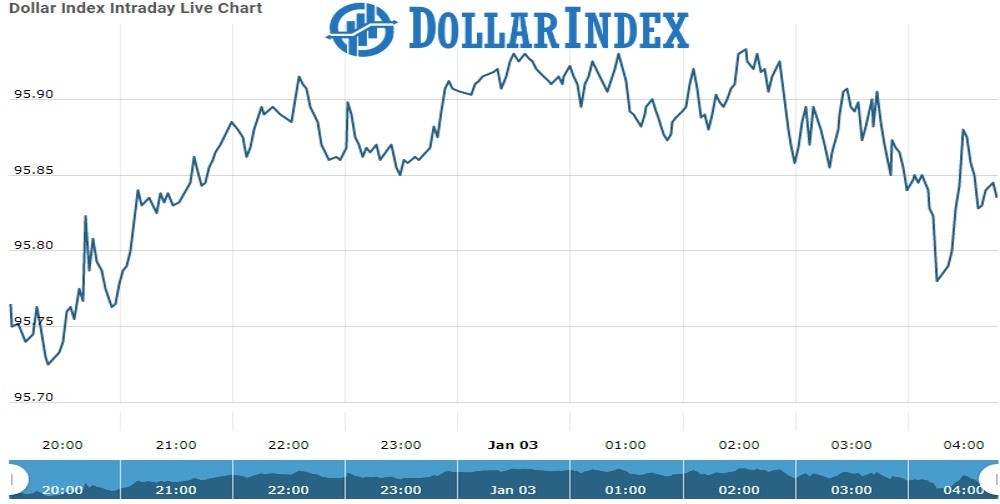 Dollar Index Update : 03 Jan 2022
The U.S.Dollar Index  is trading at 95.87  with  a loss of -0.10% percent or -0.10  point.The Dow Futures is trading at 36,455.50 with +0.32% percent or +117.20 point.The S&P 500 Futures is  trading at 4,785.60 up with +0.41% percent or +19.40 point.The Nasdaq Futures is trading at 16,399.20 up with +0.48% percent or +79.10 point.
TODAY'S FACTORS AND EVENTS
The best performer of the major currencies against the dollar in 2021 was the Canadian dollar, which was around flat for the year, helped by expectations the Bank of Canada will begin tightening its monetary policy as soon as January.
PREVIOUS DAY ACTIVITY
For the day the Dow is trading at 36,398.08 with a loss of –0.25%  percent or ?90.55 point. The S&P 500 is trading at 4,778.73 with a loss of –0.30%percent or ?14.33  point. The Nasdaq Composite is trading at 15,741.56 with a loss of –0.16% percent or –24.65 point.
WORLD MARKETS
Other leading market index closes included the small-cap Russell 2000 Index closed at 2,245.31 with a loss of –0.15% percent or -3.48 point. the S&P 600 Small-Cap Index closed at 1,401.71 with a loss of –0.044% percent or −0.62 point. the S&P 400 Mid-Cap Index closed at 2,842.00 up with +0.094% percent or +2.67  point. the S&P 100 Index closed at 2,194.58 with a loss of –0.40% percent or  −8.75 point.the Russell 3000 Index closed at 2,788.14 with a loss of -0.28% percent or −7.77  point. the Russell 1000 Index closed at 2,645.91 with a loss of -0.29% or -7.59    point.