The U.S. Dollar Index is trading at 100.09 up with +0.19% percent or +0.19  point.The Dow Futures is trading at 22,622.00 up with +0.58% percent or +131.00 point. The S&P 500 Futures is trading at 2,655.62 up with +0.52% percent or +13.62 point.The Nasdaq Futures is trading at 8,074.75 with +0.78% percent or +62.75 point.
TODAY'S FACTORS AND EVENTS
The dollar firmed on Wednesday as optimism that the coronavirus crisis was slowing waned, increasing investor concerns over the economic impact of the pandemic.
The euro and the Aussie dollar were among the main losers at the greenback's expense, a day after the dollar suffered its worst drop against a basket of currencies in nearly two weeks.
The dollar's rise came as global stocks wavered after two days of gains as deaths from the coronavirus mounted across the globe. The rising toll soured U.S. markets late on Tuesday, with pessimism spreading to Asian indexes a day later
PREVIOUS DAY ACTIVITY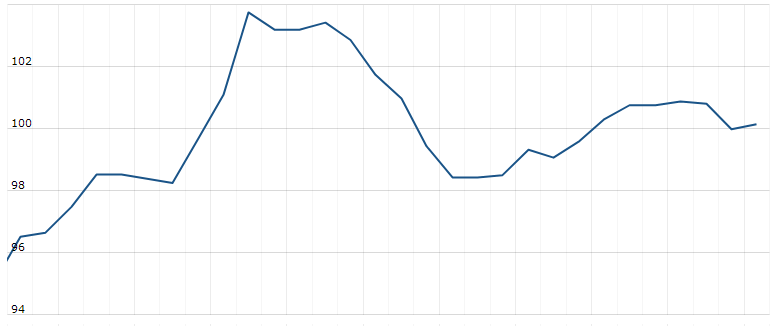 For the day the Dow is trading at 22,653.86 with a loss of –0.12% percent or –26.13 point. The S&P 500 is trading at 2,659.41  with a loss of –0.16% percent or –4.27 point. The Nasdaq Composite is trading at 7,887.26  with a loss of –0.33% percent or –25.98  point.
WORLD MARKETS
Other leading market index closes included the small-cap Russell 2000 Index closed at 1,139.17 up with +0.03% percent or +0.39  point; the S&P 600 Small-Cap Index closed at 677.65 up with +0.44% percent or +3.00 point; the S&P 400 Mid-Cap Index closed at 1,463.92 up with  +1.34% percent or +19.36 point; the S&P 100 Index closed at 1,222.75 with a loss of –0.44% percent or -5.40  point; the Russell 3000 Index closed at 1,526.54 with a loss of –0.044% percent or -0.67 point; the Russell 1000 Index closed at 1,454.86 with a loss of –0.048%or -0.70 point.