The U.S. Dollar Index is trading at 97.84  up with -0.92% percent or -0.91  point.The Dow Futures is trading at 21,794.00 with a loss of -4.58% percent or -1,045.00 point. The S&P 500 Futures is trading at 2,555.38  with a loss of -4.79% percent or -128.62 point.The Nasdaq Futures is trading at 7,540.50 with a loss of -4.56% percent or -360.25 point.
TODAY'S FACTORS AND EVENTS
The dollar fell against a broad range of currencies on Monday after the U.S. Federal Reserve made another surprise interest rate cut and major central banks took steps to relieve a shortage of dollars in financial markets.
The U.S. Federal Reserve cut rates to a target range of 0% to 0.25% and said it would expand its balance sheet by at least $700 billion in coming weeks.
Five other central banks also cut pricing on their swap lines to make it easier to provide dollars to their financial institutions facing stress in credit markets.
PREVIOUS DAY ACTIVITY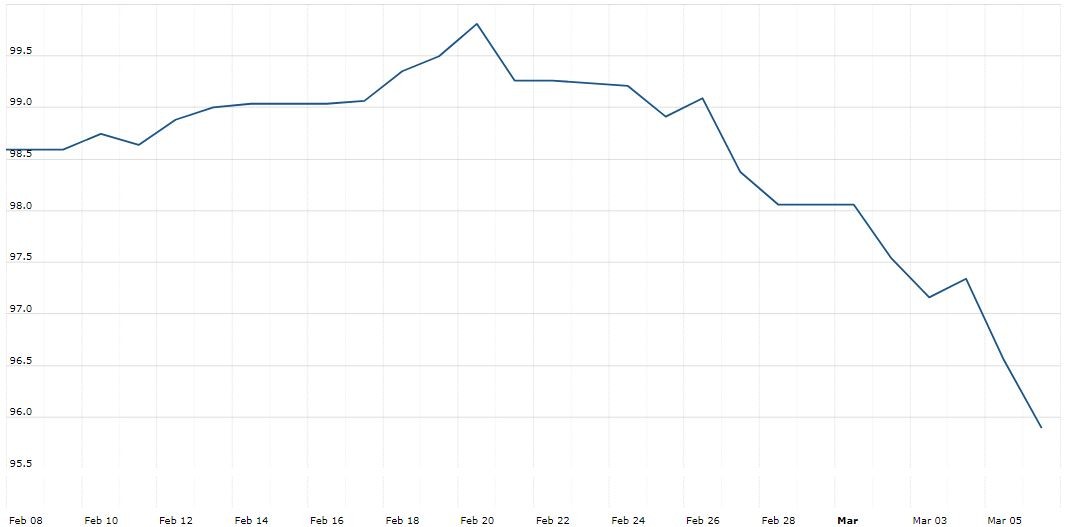 For the day the Dow is trading at 23,185.62 up with +9.36% percent or +1,985.00  point. The S&P 500 is trading at 2,711.02 up with +9.29% percent or +9.29% point. The Nasdaq Composite is trading at 7,874.88 up with +9.35% percent or +673.07  point
WORLD MARKETS
Other leading market index closes included the small-cap Russell 2000 Index closed at 1,210.13 up with +7.77% percent or +87.20 point; the S&P 600 Small-Cap Index closed at 725.98  up with +8.15% percent or +54.68 point; the S&P 400 Mid-Cap Index closed at 1,546.98  up with +8.43% percent or +120.24 point; the S&P 100 Index closed at 1,237.20  up with +10.13% percent or +113.77 point; the Russell 3000 Index closed at 1,564.71 up with a +8.97% percent or +128.77   point; the Russell 1000 Index closed at 1,488.04  up with +9.04% or +123.38 point.