The U.S. Dollar Index is trading at 98.80   with a loss of -0.03% percent or -0.03 point.The Dow Futures is trading at 29,317.50 up with +0.25% percent or +72.50 point. The S&P 500 Futures is trading at 3,361.38 up with +0.25% percent or +8.38 point.The Nasdaq Futures is trading at 9,571.75 up with +0.46% percent or +44.25 point.
TODAY'S FACTORS AND EVENTS
The dollar climbed to a four-month high against its rivals on Tuesday and closed within striking distance of a 2019 peak as subdued price swings encouraged hedge funds to load up on the relatively high-yielding greenback.
Daily price fluctuations or market volatility have fallen sharply in recent months, prompting investors to borrow in low-yielding currencies such as the euro and the franc and invest in dollars or other high-yielding currencies.
While that strategy has faced some setbacks thanks to some geopolitical events, generally such carry-trade strategies have proved to be rewarding.
PREVIOUS DAY ACTIVITY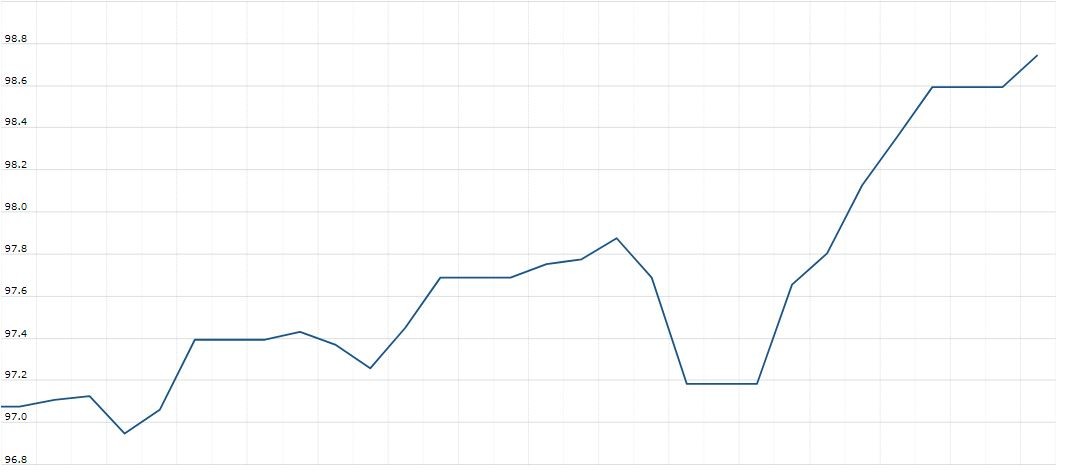 For the day the Dow is trading at 29,276.82 up with +0.60% percent or +174.31  point. The S&P 500 is trading at 3,352.09  with 0.73% percent or +24.38 point. The Nasdaq Composite is trading at 9,628.39 up with +1.13% percent or +107.88 point.
WORLD MARKETS
Other leading market index closes included the small-cap Russell 2000 Index closed at 1,667.67 up with +0.66% percent or +10.89 point; the S&P 600 Small-Cap Index closed at 1,005.60  up with +0.35% percent or +3.55 point; the S&P 400 Mid-Cap Index closed at 2,060.84 with +0.56% percent or +11.54 point; the S&P 100 Index closed at 1,510.36 up with +0.82% percent or +12.29 point; the Russell 3000 Index closed at 1,960.49 with 0.73% percent or +14.13 point; the Russell 1000 Index closed at 1,853.12 up with +0.73% or +13.44 point.