The U.S. Dollar Index is trading at 97.28 up with +0.06% percent or +0.07  point. The Dow Futures is trading at 28,312.50  up with +0.10% percent or +28.50 point. The S&P 500 Futures is trading at 3,198.62 up with +0.10% percent or +3.12 point.  The Nasdaq Futures is trading at 8,613.62 up with +0.10%  percent or +8.37 point.
TODAY'S FACTORS AND EVENTS
The pound nursed heavy losses on Wednesday after tumbling when Britain re-set a hard deadline for quitting the European Union, rekindling old fears of a chaotic exit from the bloc.
The 1.6% plunge was the steepest in more than a year and wiped out gains after Prime Minister Boris Johnson's landslide electoral victory last week. His government, which campaigned to "get Brexit done," set the end of 2020 as an immovable deadline.
"With the level of frothiness in positioning, I think people had priced in this very smooth sailing throughout 2020," said Chris Weston, head of research at Melbourne brokerage Pepperstone.
PREVIOUS DAY ACTIVITY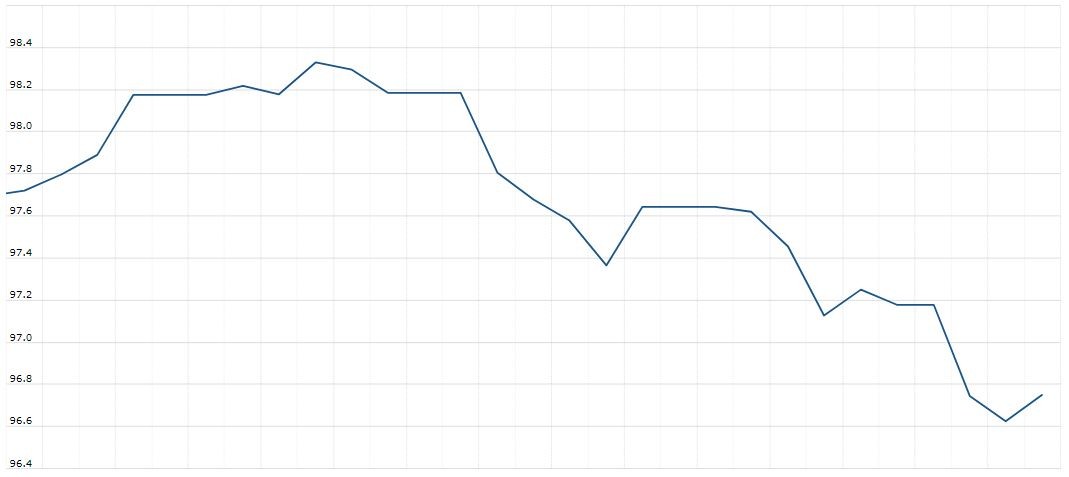 For the day the Dow is trading at 28,267.16 up with +0.11% percent or +31.27 point. The S&P 500 is trading at 3,192.52 up with +0.034% percent or +1.07 point. The Nasdaq Composite is trading at 8,823.36 up with +0.10% percent or +9.13  point.
WORLD MARKETS
Other leading market index closes included the small-cap Russell 2000 Index closed at 1,657.56 up with +0.46%  percent or +7.63   point; the S&P 600 Small-Cap Index closed at 1,015.72  up with +0.77% percent or + 7.79 point; the S&P 400 Mid-Cap Index closed at 2,045.09 up with +0.33% percent or +6.63   point; the S&P 100 Index closed at 1,425.14 up with +0.091% percent or +1.29 point; the Russell 3000 Index closed at 1,870.48 up with +0.062% percent or +1.17 point; the Russell 1000 Index closed at 1,763.06 up with +0.035% or +0.61 point.