The U.S. Dollar Index is trading at 98.33  up with 0.07%  percent or 0.06 point. The Dow Futures is trading at 27,088.50  with a loss of -0.46% percent or -125.50 point. The S&P 500 Futures is trading at 2,994.38 with a loss of -0.47% percent or -14.12 point.  The Nasdaq Futures is trading at 7,856.62  with a loss of -0.65%  percent or -51.63 point.
TODAY'S FACTORS AND EVENTS
Currencies linked to the price of oil rose on Monday after an attack on Saudi Arabian refining facilities disrupted global oil supplies, while the Japanese yen and Swiss franc strengthened as nervous investors sought safety.
Oil prices surged nearly a fifth at one point following the strikes on two plants, which knocked out more than 5% of global oil production.
Yemen's Iran-aligned Houthi group claimed responsibility, but the United States blamed Iran.
PREVIOUS DAY ACTIVITY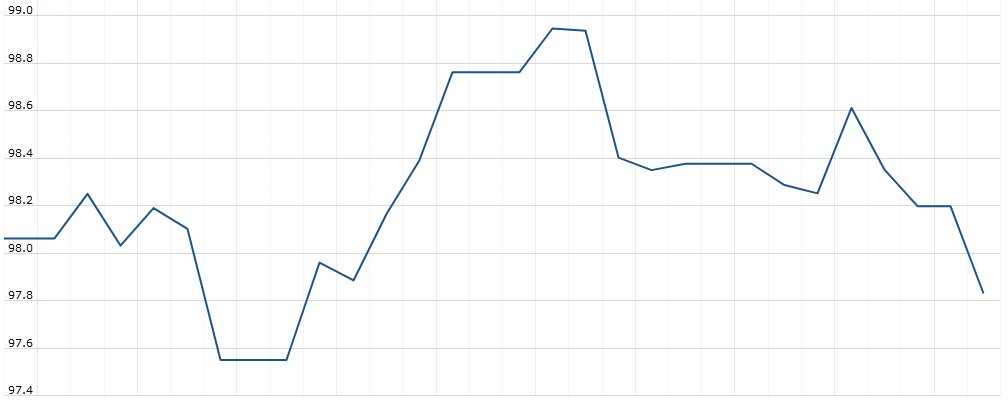 For the day the Dow is trading at 27,219.52  up with +0.14% percent or +37.07   point. The S&P 500 is trading at 3,007.39  with a loss of –0.072% percent or –2.18 point. The Nasdaq Composite is trading at 8,176.71  with a loss of –0.22% percent or –17.75  point.
WORLD MARKETS
Other leading market index closes included the small-cap Russell 2000 Index closed at 1,578.14  up with 0.20% percent or +3.07 point; the S&P 600 Small-Cap Index closed at 975.95  up with +0.16% percent or +1.52 point; the S&P 400 Mid-Cap Index closed at 1,963.16 up with +0.041% percent or +0.80 point; the S&P 100 Index closed at 1,330.97  with a loss of –0.076% percent or  –1.01 point; the Russell 3000 Index closed at 1,763.90  with a loss of –0.081% percent or –1.42 point; the Russell 1000 Index closed at 1,661.46  witha loss of  –0.10% or –1.67 point.