The U.S. Dollar Index is trading at 96.32  with a loss of -0.04% percent or -0.04 point. The Dow Futures is trading at 24,576.00 with a loss of  -0.45% percent or -111.00 point. The S&P 500 Futures is trading at 2,659.88  with a loss of -0.43% percent or -11.62 point.  The Nasdaq Futures is trading at 6,761.00  with a loss of -0.47% percent or -31.75 point.
TODAY'S FACTORS AND EVENTS
The dollar held near a two-week high on Monday, shrugging off concerns about weakening global growth and data showing China's economy slowed sharply in 2018.
The greenback has enjoyed its first weekly gain since mid-December, buoyed by hopes for a thaw in U.S.-China trade tensions and stronger-than-expected U.S. industrial production numbers.
Going into 2019, weakness in the dollar was a consensus view among currency market traders. The bet was that the U.S. central bank would stop raising interest rates and the economy would slow after a fiscal boost last year.
PREVIOUS DAY ACTIVITY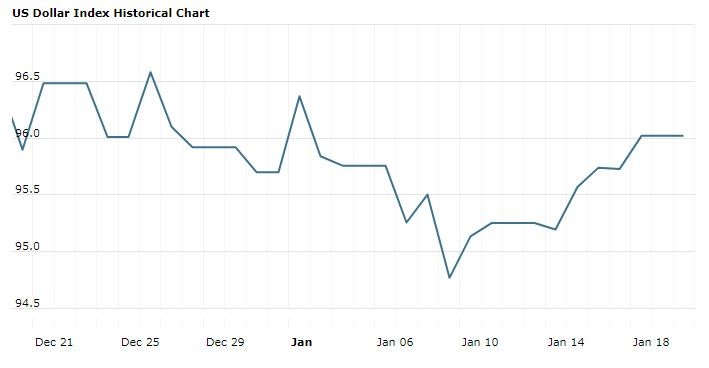 For the day the Dow is trading at 24,706.35 up with +2.06% percent or +499.19 point. The S&P 500 is trading at 2,670.71 up with +1.32% percent or +34.75 point. The Nasdaq Composite is trading at 7,157.23 up with +1.03% percent or +72.76 point.
WORLD MARKETS
Other leading market index closes included the small-cap Russell 2000 Index closed at 1,482.50  up with +1.04% percent or +15.25 point; the S&P 600 Small-Cap Index closed at 924.28 up with +1.00% percent or +9.15  point; the S&P 400 Mid-Cap Index closed at 1,817.25 up with +1.40% percent or +25.05point; the S&P 100 Index closed at 1,181.55  up with +1.17% percent or +13.69 point; the Russell 3000 Index closed at 1,575.36  up with +1.29% percent or + 20.02 point; the Russell 1000 Index closed at 1,478.25  up with +1.31% percent or +19.06 point