The U.S. Dollar Index is trading at 96.98  with a loss of -0.12% percent or -0.12 point. The Dow Futures is trading at 25,191.00 with a loss of -0.45% percent or -114.00 point. The S&P 500 Futures is trading at 2,720.00   with  a loss of -0.53% percent or -14.50 point.  The Nasdaq Futures is trading at 6,834.75 with  a loss of -1.23% percent or -85.25 point.
TODAY'S FACTORS AND EVENTS
The British pound clawed back losses on Friday as Prime Minister Theresa May clung to her Brexit plan after the resignation of key ministers threw the divorce deal into doubt.
Sterling on Thursday suffered its worst day versus the euro since 2016 after Brexit minister Dominic Raab resigned, leaving investors panicking that Britain could soon exit the European Union without a trade agreement.
But the pound rallied nearly half a percent on Friday as May struck a defiant tone and vowed to take Britain out of the European Union in March as planned.
PREVIOUS DAY ACTIVITY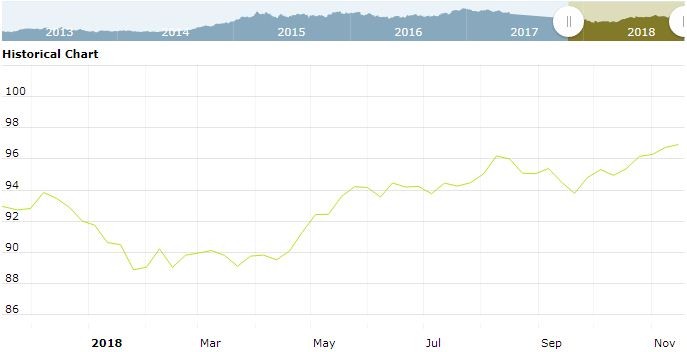 For the day the Dow is trading at 25,289.27 up with +0.83% percent or  +208.77 point. The S&P 500 is trading at 2,730.20 up with +1.06% percent or +28.62 point. The Nasdaq Composite is trading at 7,259.03  up with +1.72% percent or +122.64   point.
WORLD MARKETS
Other leading market index closes included the small-cap Russell 2000 Index closed at 1,524.12 up with +1.44% percent or +21.62 point; the S&P 600 Small-Cap Index closed at 958.54 up with +1.31% percent or +12.39  point; the S&P 400 Mid-Cap Index closed at 1,863.03  up with +1.16% percent or +21.41 point; the S&P 100 Index closed at 1,212.59 up with +1.07% percent or +12.82 point; the Russell 3000 Index closed at 1,608.26  with up +1.11% percent or +1.11% point; the Russell 1000 Index closed at 1,508.33 up with +1.08% percent or +16.18 point;