The U.S. Dollar Index is trading at 96.77  up with +0.18% percent or +0.17 point. The Dow Futures is trading at 24,654.00 with a loss of -0.90% percent or -223.00 point. The S&P 500 Futures is trading at 2,657.00  with  a loss of -1.16% percent or -31.25 point.  The Nasdaq Futures is trading at 6,772.75  with a loss of -2.18% percent or -150.75 point.
TODAY'S FACTORS AND EVENTS
The dollar hovered near a 10-week high on Friday as investors waited to see if U.S. economic growth figures do anything to interrupt its months of strength.
Donald Trump has expressed displeasure over the dollar's strength, defying a custom that U.S. presidents avoid openly interfering in financial markets.
Traders expect a potentially strong reading of U.S. gross domestic product data on Friday which could see the dollar climb further.
PREVIOUS DAY ACTIVITY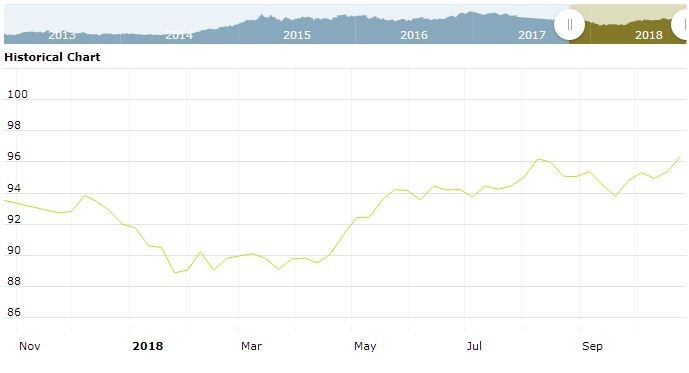 For the day the Dow is trading at 24,984.55 up with +1.63% percent or  +401.13 point. The S&P 500 is trading at 2,705.57 up with +1.86%percent or +49.47 point. The Nasdaq Composite is trading at 7,318.34 up with +2.95% percent or +209.94 point.
WORLD MARKETS
Other leading market index closes included the small-cap Russell 2000 Index closed at 1,500.40  up with +2.16% percent or +31.70 point; the S&P 600 Small-Cap Index closed at 941.26  up with +2.20% percent or +20.27  point; the S&P 400 Mid-Cap Index closed at 1,814.40  up with +1.42% percent or +25.38 point; the S&P 100 Index closed at 1,211.11  up with +2.14% percent or +25.33 point; the Russell 3000 Index closed at 1,592.21 up with  +1.87% percent or  +29.30 point; the Russell 1000 Index closed at 1,493.95 up with +1.85% percent or +27.17 point;