The U.S. Dollar Index is trading at 95.93  with a loss of  -0.10% percent or -0.09  point. The Dow Futures is trading at 25,041.00 with a loss of -1.00% percent or -253.00 point. The S&P 500 Futures is trading at 2,725.00   with a loss of -1.14% percent or -31.50 point.  The Nasdaq Futures is trading at 7,057.25 with a loss of -1.37 percent or -98.00% point.
TODAY'S FACTORS AND EVENTS
The euro fell towards a two-month low on Tuesday before a meeting by the European Commission on Italy's budget that could see Brussels take the unprecedented step of rejecting it and demanding changes.
A dispute over Italy's spending plans and doubts about the leadership of Britain's prime minister, mired in a stalemate over Brexit, means investors are focusing on the likelihood of further political turmoil in Europe.
That contributed to broad risk aversion on Tuesday, with the safe-haven Japanese yen and Swiss franc strengthening while higher-yielding currencies like the Australian and New Zealand dollars fell.
PREVIOUS DAY ACTIVITY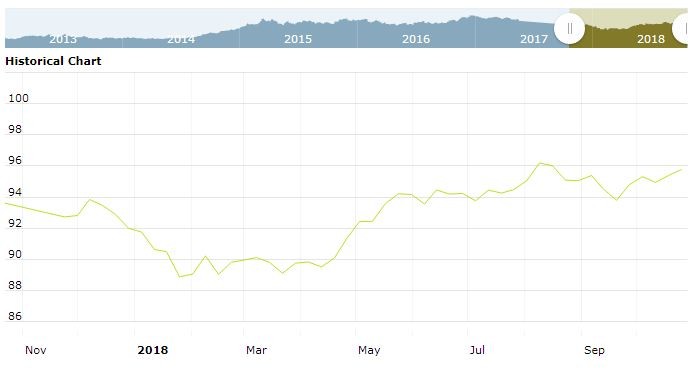 For the day the Dow is trading at 25,317.41 with  a loss of -0.50% percent or  -126.93  point. The S&P 500 is trading at 2,755.88 with a loss of  -0.43% percent or -11.90 point. The Nasdaq Composite is trading at 7,468.63 up  with +0.26% percent or 1+9.60 point.
WORLD MARKETS
Other leading market index closes included the small-cap Russell 2000 Index closed at 1,539.50  with a loss of -0.16% percent or -2.54 point; the S&P 600 Small-Cap Index closed at 961.94   with a loss of -0.012% percent or -0.12 point; the S&P 400 Mid-Cap Index closed at 1,863.15  with a loss of -0.48% percent or  -9.02 point; the S&P 100 Index closed at 1,231.02 with a loss of -0.41% percent or -5.07 point; the Russell 3000 Index closed at 1,623.38  with a loss of -0.41% or  -6.66 point; the Russell 1000 Index closed at 1,522.44 with a loss of  -0.43% percent or -6.54 point;