US PRE MARKET
The US Dollar Index are trading at 89.06 with a loss of -0.76% percent or -0.68 point. The cac 40 index are trading at 5,165.26 for up with +1.10% percent or  +56.03 point . The DAX Index are trading at 12,339.16 for up  with  +1.17% percent or +142.66 point. The EURO Stoxx 50 Index are trading at 3,378.43 for up with +1.12% percent or  +37.50 point.
TODAY'S FACTORS AND EVENTS
The U.S. dollar rose against a basket of major world currencies after a stronger-than-expected report of U.S. consumer prices raised expectations that price pressures will accelerate this year and may prompt a faster pace of interest rate increases from the Federal Reserve.
A surprise decline in retail sales in January, however, may have limited the dollar's rise.
"Retail Sales truly disappointed," said Juan Perez, senior FX trader and strategist at Tempus in Washington. "They kept the dollar from blowing up after stellar CPI. People need to be buying things in order for the economy to grow and it seems like we're lacking on that."
PREVIOUS DAY ACTIVITY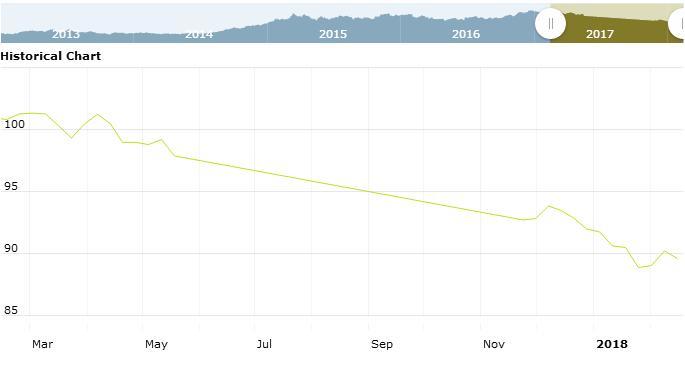 U.S. market were higher on Tuesday. For the day the Dow Jones Industrial Average closed at 24,901.49 for up with  +1.06% percent or +261.04 point. The S&P 500 closed at 2,697.06 for up with +1.28% percent or  34.12 point. The Nasdaq Composite closed at 7,150.01 for up  with +1.95% percent or +136.50 point.
Other leading market index closes included the small-cap Russell 2000 Index closed at 1,520.20 for up with +1.70% percent or +25.49 point; the S&P 600 Small-Cap Index closed at 929.36 for up  with +1.82% percent or +16.57 point; the S&P 400 Mid-Cap Index closed at 1,874.77 for up with +1.72% percent or  +32.77 point; the S&P 100 Index closed at  1,876.72 for up with +1.79% percent or +32.99 point; the Russell 3000 Index closed at 1,594.30 for up with +1.45% percent or  +22.78point; the Russell 1000 Index closed at 1,495.00 for up with +1.44% percent or +21.53 point; and the Dow Jones U.S. Select Dividend Index closed at  24,893.49 for up with +1.03% percent or  +253.04 point.