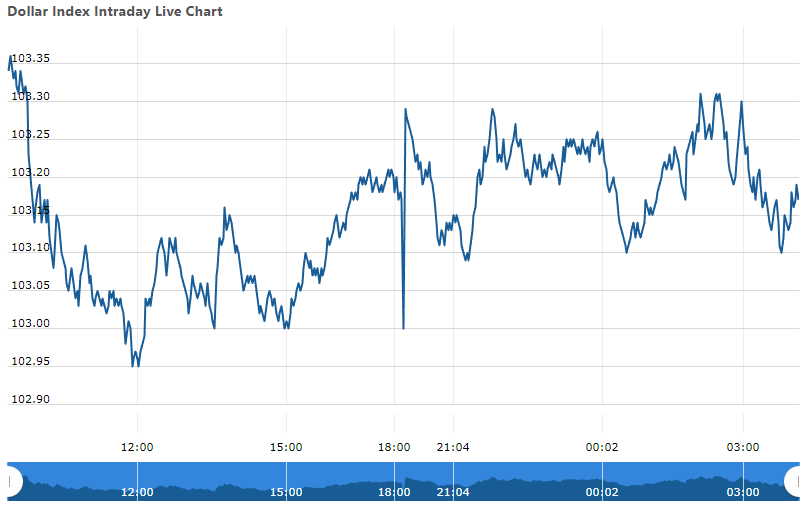 The U.S.Dollar Index  is trading at 103.14 up with 0.14% percent or 0.14% point.The Dow Futures is trading at 33,464.5 with  a loss of -0.16% percent or -53.1 point.The S&P 500 Futures is  trading at 3,889.80 with a loss of -0.06% percent or -2.30 point.The Nasdaq Futures is trading at 11,102.1 with a loss of -0.06% percent or -6.3 point.
TODAY'S FACTORS AND EVENTS
The U.S. dollar languished near a seven-month low against other major currencies on Tuesday, as investors took heart that the Federal Reserve may be nearing the end of its rate-hike cycle and as China's reopening drove demand for riskier assets.
PREVIOUS DAY ACTIVITY
For the day the Dow is trading at 33,517.65 with a loss of –0.34% percent or ?112.96 point. The S&P 500 is trading at 3,892.09 with a loss of –0.077% percent or ?2.99 point. The Nasdaq Composite is trading at 10,635.65 up with +0.63% percent or +66.36 point.
WORLD MARKETS
Other leading market index closes included the small-cap Russell 2000 Index closed a 1,795.91 with 0.17% percent or  3.11 point. the S&P 600 Small-Cap Index closed at 1,185.96 up with 0.011% percent or +0.13 point. the S&P 400 Mid-Cap Index closed at 2,490.50 up with 0.022% percent or +0.55 point. the S&P 100 Index closed at 1,726.18 with 0.085% percent or  −1.47  point.the Russell 3000 Index closed at 2,249.25 with 0.00080% percent or −0.018 point. the Russell 1000 Index closed at 2,135.70 up with 0.012% or −0.26  point.