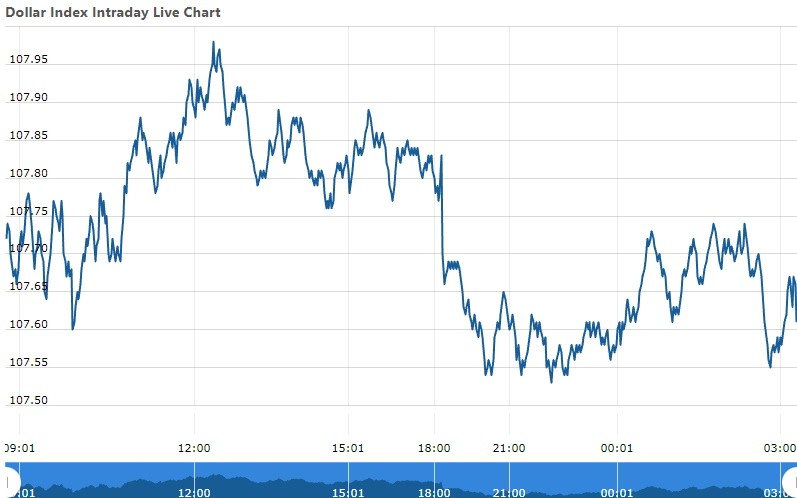 The U.S.Dollar Index  is trading at 107.60 up with -0.22% percent or -0.24 point.The Dow Futures is trading at 33,694.5 with a loss of -0.02% percent or -5.8 point.The S&P 500 Futures is  trading at 3,950.00 with +0.00% percent or ++0.10 point.The Nasdaq Futures is trading at 11,557.8 up with +0.04% percent or +4.3 point.
TODAY'S FACTORS AND EVENTS
The dollar pared some of its strong overnight gains on Tuesday after investors flocked to the safe-haven currency on nerves over China's Covid flare ups, though cautious risk sentiment kept the greenback in demand.
PREVIOUS DAY ACTIVITY
For the day the Dow is trading at 33,700.28 up with 0.13% percent or ?45.41 point. The S&P 500 is trading at 3,949.94 with a loss of –0.39% percent or ?15.40 point. The Nasdaq Composite is trading at 11,024.51 with a loss of –1.09% percent or -121.55 point.
WORLD MARKETS
Other leading market index closes included the small-cap Russell 2000 Index closed a 1,839.14 with –0.57% percent or  -10.59 point. the S&P 600 Small-Cap Index closed at 1,214.15 up with 0.33% percent or −3.99 point. the S&P 400 Mid-Cap Index closed at 2,504.48 with a loss of -0.24% percent or −6.15  point. the S&P 100 Index closed at 1,766.62 with 0.59% percent or  −10.47 point.the Russell 3000 Index closed at 2,282.83 with 0.44% percent or −−10.13 point. the Russell 1000 Index closed at 2,166.34 with a loss of -0.43% or −9.43 point.