The U.S. Dollar Index is trading at 97.52  with a loss of -0.01% percent or -0.00 point. The Dow Futures is trading at 25,745.00 up  with +0.76% percent or +195.00 point. The S&P 500 Futures is trading at 2,853.12  up with +0.86% percent or +24.38 point.  The Nasdaq Futures is trading at 7,454.75  up with +1.08% percent or +79.75 point.
TODAY'S FACTORS AND EVENTS
Investors have been flocking to safe haven assets such as the yen, bonds and gold, with China allowing the yuan skidding to 7 against the dollar, its lowest in 11 years. Wall Street on Friday closed out its worst week of 2019 so far.
Global stocks have suffered volatile sessions since U.S. President Donald Trump on Thursday announced his plans to slap 10% tariffs on China's remaining $300 billion of exports to the United States, announcing the decision on Twitter having reportedly overruled his own advisors.
China has historically controlled its currency, and the decision to allow it to fall has been seen as a retaliation to Trump's tariffs. Bloomberg news reported on Monday that Beijing has also halted imports of U.S. agricultural products.
PREVIOUS DAY ACTIVITY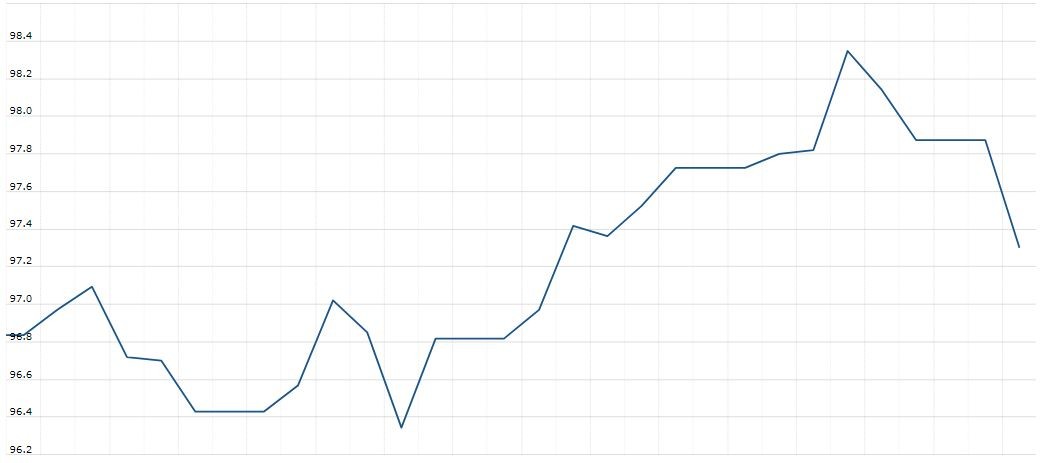 For the day the Dow is trading at 25,717.74  with a loss of -2.90% percent or -767.27 point. The S&P 500 is trading at S&P 500 with a loss of -2.98% percent or -87.31 point. The Nasdaq Composite is trading at 7,726.04 with a loss of -3.47% percent or -278.03 point.
WORLD MARKETS
Other leading market index closes included the small-cap Russell 2000 Index closed at 1,487.41   with a loss of -3.02% percent or -46.25  point; the S&P 600 Small-Cap Index closed at 911.71 with a loss of -2.82% percent or −26.43 point; the S&P 400 Mid-Cap Index closed at 1,860.83   with  a loss of  -2.80% percent or -53.70 point; the S&P 100 Index closed at 1,256.99 with a loss of -3.06% percent or -39.66 point; the Russell 3000 Index closed at 1,671.77 with a loss of -2.99% percent or -51.54 point; the Russell 1000 Index closed at 1,575.30   with a loss of -2.99% or -48.54 point.