The U.S. Dollar Index is trading at 96.47  with a loss of -0.14% percent or -0.13  point. The Dow Futures is trading at 25,559.00  with a loss of  -0.13% percent or  -47.00 point. The S&P 500 Futures is trading at 2,839.00  with a loss of  -0.20% percent or  -5.75 point.  The Nasdaq Futures is trading at 7,368.75 with a loss of -0.27% percent or  -20.25 point.
TODAY'S FACTORS AND EVENTS
The euro rose for a second day in a row on Friday as hopes that next week's talks between the United States and China will ease trade tensions between the two pushed the dollar lower.
The Turkish lira's continued recovery helped some emerging market currencies, although the Chinese yuan slipped slightly after Thursday's big rise, underlining investor nervousness about volatility in developing markets.
The euro has been under pressure in recent weeks on worries about euro zone bank exposure to Turkey after the lira crashed this month. Concerns that Italy's governing parties will agree a budget with high public spending have also weighed on the single currency.
PREVIOUS DAY ACTIVITY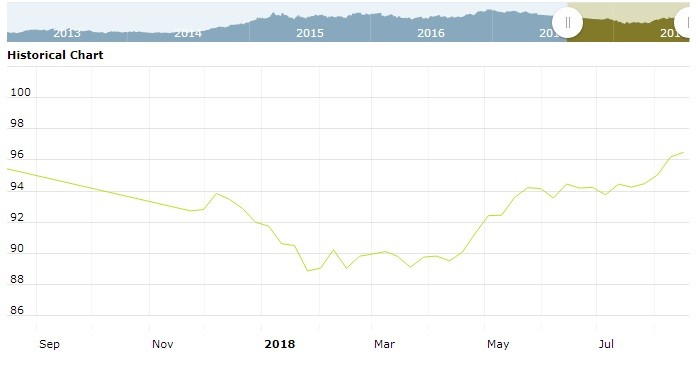 For the day the Dow is trading at 25,558.73  up with +1.58% percent or +396.32 point. The S&P 500 is trading at 2,840.69  up with +0.79% percent or +22.32 point. The Nasdaq Composite is trading at 7,806.52 up with +0.42% percent or  +32.41 point.
WORLD MARKETS
In other parts of world, Japan's Nikkei 225 is trading at 22,270.38 up with +0.35% percent or +78.34 point. Hong Kong's Hang Seng is trading at 27,213.41 up with +0.42% percent or 113.35 point. China's Shanghai Composite is trading at 2,668.97 up with +1.34% percent or  +36.23  point. India's BSE Sensex is trading at 37,960.25 up  with +0.79% percent or +296.69 point at 12:15 PM.